How much food does my dog need?
The core of every Maev diet.
Raw Food
The core of every Maev diet.
---
The core of every Maev diet. Made with 100% real USDA beef, beef liver and beef sweetbreads, kale, peas, blueberries, pork bone flour, and peanut butter. Topped with additional superfoods to target your chosen wellness goal. Flash-frozen and delivered to your doorstep for easy feeding.

Use our portion calculator for a vet-approved recommendation.
Frequency:
15 lb every 4 weeks
Add to Cart
Unsubscribe anytime
Nutrition panel and portion instructions
We accept all major credit cards. Gift cards are available
here
.
---
Traditional dog food wasn't doing us any favors.
So we made one that does.
Human-grade and AAFCO-approved 'Balanced & Complete.'
100% USDA-certified lean beef. High protein, balanced fats, & fresh produce.
No high-pressure or temperature processing.
No preservatives, fillers, synthetics, or by-products.
---
Flexible subscription,
so you're in control.
Free, easy cancellation
Cancel your Maev subscription anytime—no explanation needed, no strings attached.
Control your delivery time
Simple Swaps and Changes
Add, swap, or otherwise modify your sub whenever you need.
---
AAFCO-approved.
'Balanced & Complete' raw meals.
Certified nutritional balance
Our raw meals meet the nutrient profile AAFCO recommends for dogs.
Human-grade ingredients
All our food products meet the FDA's bacteria and virus testing criteria.
USDA-certified & select meats
We only put in what we'd be comfortable eating ourselves.
---
Change the foundation, see results within the first month. Here's what we generally see:
MONTH 01
The journey starts in the gut.
Improved digestion
Harder, smaller, less smelly stools
Balanced energy & stamina (less hyperactivity & fatigue)
Less begging for human food or excessive treats
MONTH 02
Strengthen overall health.
Strengthened immune system
Improved liver, pancreatic & bowel health
Less hyperactivity caused by chemicals, flavorings, additives & colorings
MONTH 03
Skin, bones, and teeth.
Beginning to reduce allergy symptoms
Shinier, healthier skin & coat
Cleaner teeth and fresh breath
MONTH 06
Healthy aging.
Better weight control
Increased mobility in older animals
Fewer trips to the vet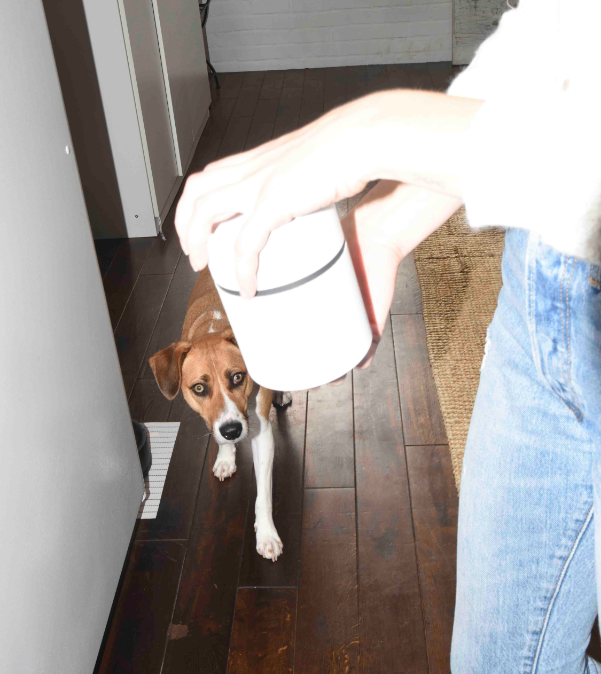 ---
Vitamin Profile
We only source our vitamins from food ingredients, never artificially isolated nutrients, so they're safer and more easily digested.
Here's how we're formulating your meals and bars to promote health.
---
We source our vitamins from food ingredients, never artificially isolated nutrients, so they're safer and more easily digested.
Digestive Enzymes
Our species specific digestive enzymes promote essential nutrient absorption.
Turmeric
A natural anti-inflammatory & superfood that's long been used to ease joint pain.
Coconut Oil
Fatty acids aid digestion by increasing nutrient absorption, balancing the thyroid to maintain a healthy weight.
Elderberry
Rich in calcium, potassium, and iron, elderberry promotes healthy bones and teeth.
Chamomile
Eases stress, indigestion & gas by relaxing muscles. Its apigenin & chamazulene are anti-inflammatory.
Calcium
A natural, digestible source of calcium that helps bones & teeth. Sourced from pig bone, its exfoliating texture removes tartar.
Small Fish Oils
Small fish are lower in mercury & rich in fatty acids supporting fur, skin, joints, & immunity.
Thiamine B1
An essential vitamin for dogs, supports brain function, prevents confusion & fatigue.
Collagen
Packed with amino acids that promote gut health, detox the liver, and recharge joints.
Probiotic Blend
Species specific probiotics that balance gut flora. Kibble and improper foods deteriorate a dog's natural flora (the mix of bacteria that handles digestion & immunity).
---
We want to answer your questions.
Seriously!
Our team of dog lovers and veterinary nutrition experts love hearing from you :)
How do you know what kind of food my dog needs?
How do you know how much food my dog needs?
More questions? Find answers on our FAQ page.
---
Not dog food, just real food.
We started Maev because we didn't feel seen by any dog brands out there -- the modern experience of raising a dog is a uniquely challenging one.
That's why we worked with veterinary nutritionists to develop a raw food formula that's biologically appropriate, using fresh, unaltered ingredients for the healthiest, most transparent choice you can make for your dog.